Photos Courtesy of Individual Rental Listings

Crisp air, beautiful leaves, evenings spent around the fire...fall weather and cozy cabins simply go hand in hand.
To get your fix of fall foliage, grab some cider, throw on your fleece and hit the road to one of these idyllic destinations where you can wake up to views of endless fall color every morning. Here are some of the rental cabins on our bucket list that boast the best fall color: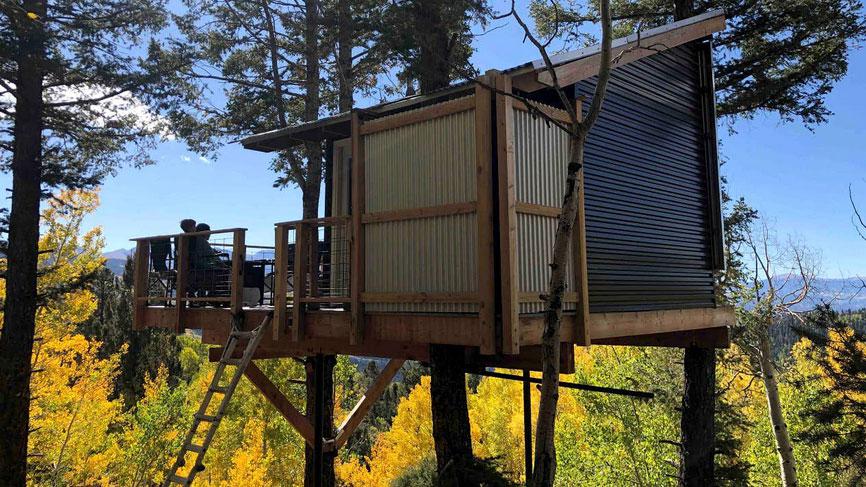 Quick Facts: 4 guests, 2 beds, 1 bath

The Aspen, Colorado, area is a popular fall color destination due to, well, the aspen trees. The golden-hued landscape is a must-see for any fall foliage lover, and this off-grid tree house provides the perfect viewing platform for fall scenery.

Quick Facts: Guests 11, 7 beds, 3 baths
Maine's scenic coastline and historic charm make it a popular fall destination, but we think its beautifully colored trees are even more of a draw. This lakefront cabin is surrounded by forest that turns into a eye-popping palette of red, yellow and orange in the fall months.

Quick Facts: 8 guests, 4 beds, 2 baths

With 80% of the area covered in deciduous forest, the Smoky Mountains boast an abundance of leaf peeping opportunities. Check into this two-story getaway, and take in the fall colors from the comfort of the hot tub.
Quick Facts: 6 guests, 4 beds, 3 baths
Native sugar maples make Vermont a bucketlist destination for dedicated leaf-peepers. People from all over the world flock to state in the fall months to view the gorgeous red color of the leaves. Ditch the crowds and take in the views from the porch of your own private treehouse.

Quick Facts: 10 guests, 2 bedrooms, 2 baths
The Ozark National Forest contains 1.2 million acres of gorgeous vistas. In October, the trees show off in shades of gold, orange and red. This treetop cabin offers sky-high views from the balcony which are second to none.
Quick Facts: 8 guests, 5 beds, 2.5 baths
Connecticut's many country roads make it an ideal destination for long fall drives. This lakeside cabin provides kayaks so you can soak up the views from the water.
Quick Facts: 6 guests, 4 beds, 2 baths
Head to New Hampshire in September and October to catch the vibrant displays of red, yellow and orange leaves.
Check into The Vienna Lodge for modern accomodations with back-to-nature sensibility.